Who Is Coaching For?
If you are wanting to take it to the next level on the playing field, in the boardroom or in life then Coach JC's Coaching is for you.
We Build WINNERS & WINNING Teams!
Hey WINNER,
You landed on my site for a reason! Keep reading and know this, every single person that I am blessed to cross paths with I believe I have the power to and will change their life for the better. I love what I do and want to see you WIN.  All successful top performers have a coach and as a coach myself I believe in coaching so much that I have coaches of my own.  You can have more! You can be more! You can WIN in that area of your life that you desire to WIN in!
And that's where I come in…
I have been blessed to coach people from all walks of life and now it's your turn. I love people and I hate to see people underachieve in life. I had to learn how to overcome many obstacles in my own life and by the age of 23, I discovered how to turn what looked like a severe loss in my own life into a WIN.  As a result, I created my own coaching system, "WIN ALL DAY."  This is the exact system that is used by teams, organizations and first responding agencies. The WIN ALL DAY Personal Development training, coaching and programs are now responsible for being implemented by over 50,000 people from all walks of life. We have been a part of building multi-million dollar businesses and 17 Championship teams working with athletes from College, NBA, NFL, MLB, MLS, and Olympians.
We provide coaching at different levels for both individuals and for teams. See below to learn more about how to make WIN ALL DAY coaching a part of your life.
1-on-1 Coaching
LIFE COACHING. Do you want to win in life? Are you living your BEST life? Are you truly happy and winning  in your health, wealth and relationships? Coach JC will show you how to BE YOUR BEST so you can live the life you were born to live!
Coach JC works with a select group of clientele all over the country on a Private one-on-one basis.
Life Coaching with Coach JC gives you access to Coach JC via phone, text and email, along with in-person meetings(or Skype for distant clients).
Ready to take your life to the next level? Schedule your 30 minute discovery call today:
VIP 2 DAY EXPERIENCE. These 2 days are a life changing experience where you come and stay with Coach JC in Tulsa OK.
Have you ever wondered, what do high performers do? How do WINNERS live their life? Come live with Coach JC for 2 full days and observe the mindset, the patterns, behaviors and routines that he runs and has ran for over 12 years to build the winner he is and his winning life!
The two days are focused on personal development and growth. You will be stretched and challenged over these two intensive days.
You will leave with extreme clarity on the 3 W's to build the WINNER you were born to be:
What – a vision for your life and mission (business/career)
Why – a strong purpose
Who – identity in who you are and who you will become
You will experience the WINNING way and Coach JC and his team will coach you through the 5 Pillars to build your WINNING life:
FOCUS. – Mindset & Emotions
FAITH. – Spiritual & Belief
FITNESS. – Health & Body
FAMILY. Relationships
FINANCES. – Mission & Money
You will leave with the playbook and the exact strategy to take you and your mission to the next level.
You will leave with a fire and passion for life that you haven't felt before!
This is an all inclusive experience including the coaching, all material, food, lodging (and you may even be selected to stay at Coach JC's house) and at WIN ALL DAY we like to over deliver, so get ready!
Let's see if the 2 day experience is a good fit for you? Schedule a 30 minute discovery call today:
BUSINESS COACHING. Coach JC has started and run 5 business. He has helped many entrepreneurs get started and CEO's take their company to the next level. He is a go-to when it comes to building a brand. He has helped hundreds of people build personal brands, taking your skills, your passion and your purpose and packaging it to get your message to the world.
Ready to start or growth your business? Schedule your 30 minute discovery call today:
*We also provide mastermind groups and trainings at WIN ALL DAY for personal development, personal branding and business launch, business growth and health & fitness.
You can check out these WIN ALL DAY trainings here:
WIN ALL DAY masterminds and trainings
*If you are not sure what coaching or program is right for you, let's talk.
Schedule your 30 minute discovery call today:
Team Coaching / Consulting
Coach JC and his team of WIN ALL DAY coaches coach leaders, teams, organizations and companies of all sizes. WIN ALL DAY Personal Development was designed to develop your people into the best versions of themselves. Building your people will result in them living lives of purpose, showing up with more passion and executing more efficiently. Your organization will without a doubt, be impacted by improved culture and increased revenue, driving the ultimate mission forward.
The WIN ALL DAY coaching and training is for teams, organizations and agencies. We build your most valuable asset, your people or you can be granted the rights to our world class personal development curriculum program to implement with your people.
Our coaching and trainings are focused on the WINNING areas of:
THE WINNING MINDSET
MOTIVATION & COMMITMENT TO BE A WINNER
WINNING FOCUS & AWARENESS
SELF-CONTROL & DISCIPLINE TO WIN
WINNING PROCESSES
ROUTINES AND HABITS OF WINNING
TIME MANAGEMENT AND ORGANIZATION TO WIN
And all of this is to build winners, leaders & the right culture!
Making WIN ALL DAY Personal Development a part of your organization can be implemented in a few different ways:
Full Day Trainings
90 Day All In To WIN
Train The Trainer – Coaching and consulting leaders at your organization so they can then implement the WAD personal development system within the organization for increased performance and leadership.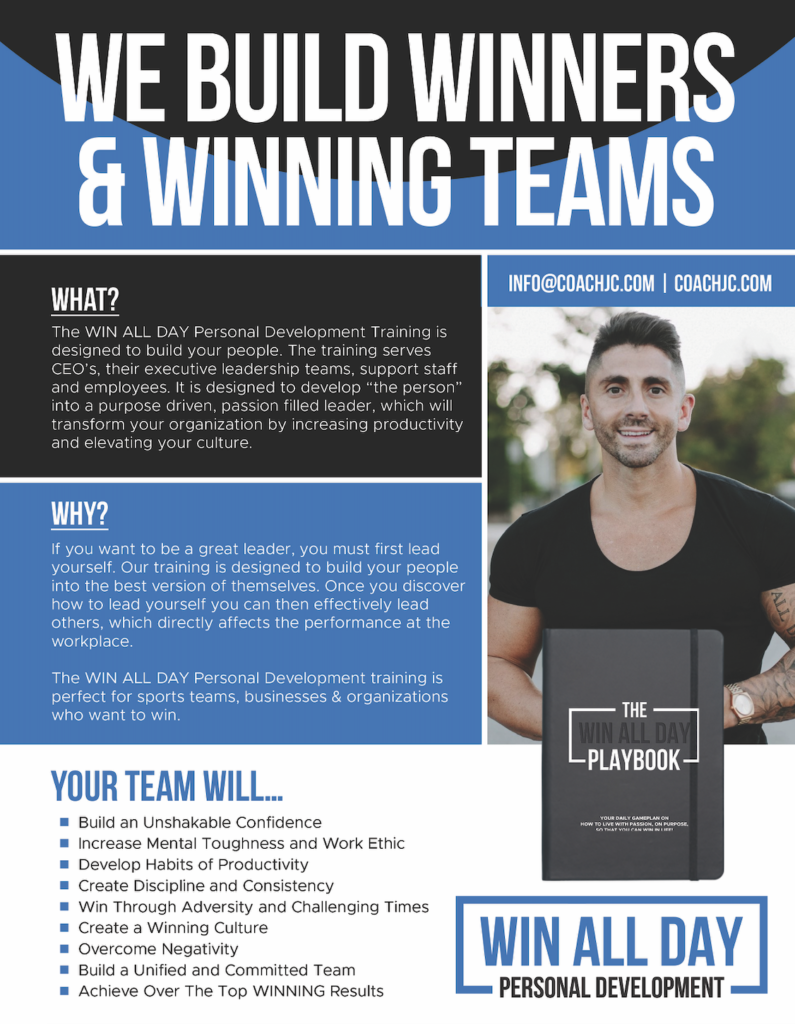 Ready to take your team, organization, agency to the next level? Schedule your 30 minute discovery call today!