GET STARTED
I cross paths with people everyday that want to be more and achieve more in life. They ask me "Coach JC what did you do to win?" or "How did you get to where you are today?"
I truly believe that because of what I walked through(the adversity, trials, storms, obstacles) and was able to overcome in life is why I am able to coach people to overcome and perform at such a high level.  I don't coach you on what I think is a good idea, but what I did that worked for me to WIN IN LIFE.
I created this "GET STARTED" 3 step simple process as a free resource to help you BUILD THE WINNERS YOU WERE BORN TO BE and WIN IN LIFE!
You don't get what you want in life, you get who you believe you are.
How you view YOU and what YOU are capable of can change everything.
Starting today I want to give you the start of how I created "Coach JC"  and how you are going to create THE WINNER WITHIN YOU.
You will increase your self-esteem and shift how you view you! This will improve your self-image and how you believe others view you.
It all starts with your thoughts…. CREATING THE WINNING MINDSET!
Your thoughts create your belief, which determines your attitude. Your attitude dictates your actions which produces your results. The results you get over and over again create your life.
Then it is about FAITH. Creating belief about who you are, who you can become and what you can have. You create this faith by CREATING WINNING WORDS.
Then you will CREATE WINNING ACTIONS that will turn into WINNING habits.
It's about the small simple disciplined things we choose to do each day that produce the wins… I call this STACKING WINS.
Below you will see 3 Steps. These are the steps to get you started so that you can CREATE…
THE WINNING MINDSET
WINNING WORDS to build faith
WINNIG ACTIONS
Just follow these simple "GET STARTED" steps below to WIN ALL DAY!
Who Loves Ya?!
I Do
Coach JC
STEP ONE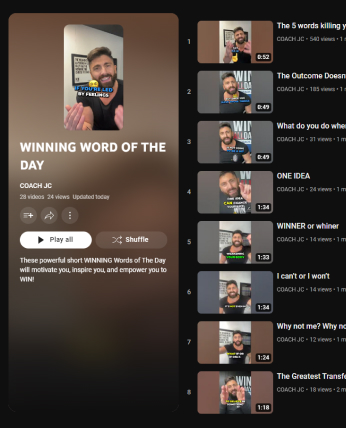 WINNING WORD OF THE DAY
Coach JC's WINNING WORD OF THE DAY are short powerful, high energy Youtube videos that will inspire you to elevate your thinking, challenge your beliefs, empower your emotions and motivate you to take action. Watch one WINNING WORD a day and receive the message that Coach JC has for you.
STEP TWO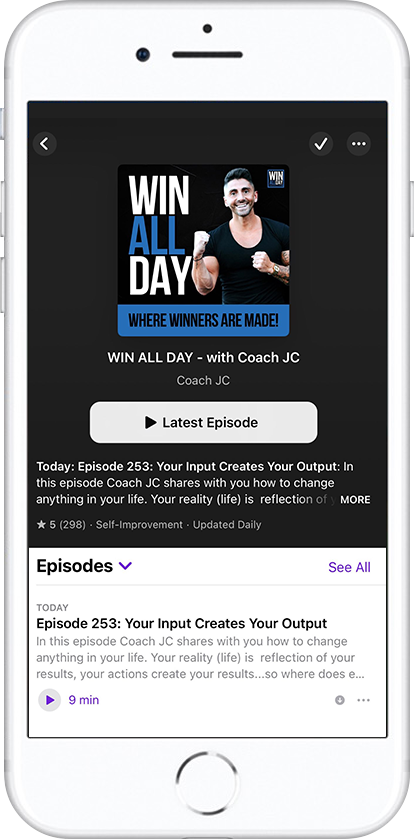 DOWNLOAD THE WIN ALL DAY PODCAST
Now available at the iTunes Store and anywhere podcasts are. Coach JC's WIN ALL DAY podcast provides a free resource so you can hear and confess the right things in your life. Coach JC drops daily impactful WINNING words and interviews some of the top WINNERS in the world. This show will be the motivation and inspiration you need along with practical strategy so you can WIN more in life.
STEP THREE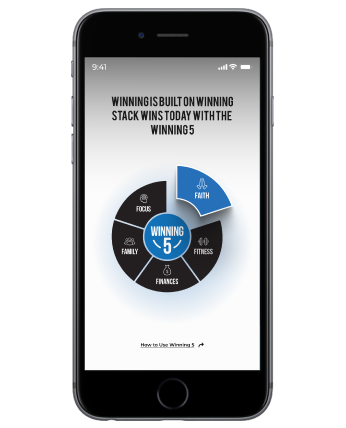 WINNING 5 APP
Coach JC's WINNING 5 APP is his exact daily rituals that he used and has trained others on to build the WINNER they were born to be and their WINNING life. You will STACK WINS with the WINNING 5
STEP FOUR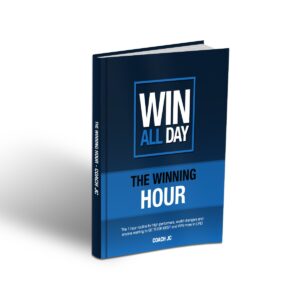 THE WINNING HOUR
Coach JC's WINNING HOUR is his exact daily ritual that he used and still uses to create the discipline and produce the habits that lead to the WINS in his life. It is exactly step by step what you need to do to train to WIN ALL DAY (Mental, Emotional, Spiritual, Relational, Mission(business/focus), Physical). Download it and like Nike said, "Just do it!"